The University of California-Los Angeles (UCLA) is a prestigious state university located in the city of Los Angeles, California, with the largest number of applicants due to geographical factors surrounded by Hollywood, Beverly Hills, Santa Monica and Los Angeles.
Basic information and tuition
BASIC
SITE
www.ucla.edu
ADDMISSION
www.admissions.ucla.edu
ADDRESS
405 Hilgard Ave, Los Angeles, CA 90095-1405
STUDENT
44,537 (31,577 undergraduate)
FAUCLUTY
18 : 1
YEARLY
(2019-20)
Tuition and fees
$42,218
Room and board
$15,902
Admission Infomation
| | | | |
| --- | --- | --- | --- |
| 2018-2019 | Total | Men | Women |
| Applicant | 113,754 | 52,198 | 61,556 |
| Acceptance | 15,926 | 6,786 | 9,233 |
| Registered | 6,211 | 2,443 | 3,786 |
| Acceptance Rate | 14 % | 13 % | 15 % |
Application Requirements
| | |
| --- | --- |
| High School GPA | Required |
| High School Rank | Consider but not required |
| High School Record (or Transcript) | Required |
| Completion of College Preparatory Program | Required |
| Recommendations | Consider but not required |
| Formal Demonstration of Competencies | Recommended |
| Admission Test Scores | Required |
| TOEFL | Recommended |
| Other Test (Wonderlic, WISC-III, etc.) | Consider but not required |
Test
Subject
25th Percentile
75th Percentile
SAT
Evidence-Based Reading and Writing
650
740
Math
640
780
ACT
Composite
30
34
Math
28
34
English
29
35
20th in the 2019 US News undergraduate rankings and number one in state universities. In particular, it is considered the No. 1 university among U.S. national and public universities in many evaluation institutions, including being the only public university in the top 20 in US News, which was considered exclusive to private universities.
UC currently operates on a quota system, not a semester system, except for UC Berkeley and UC Merced, and in UCLA, one quota is operated on a total of 11 weeks of 10 weeks + final exam week. In other words, the three quarters of autumn, winter, and spring, excluding summer, become a regular one-year course.
UCLA is a highly developed school, especially in humanities, sociology, and art. In particular, the department of linguistics is the undisputed No. 1 nationwide. This is also the main reason why linguistic talents are flocking to UCLA across the country. It is a prestigious university highly recognized in various fields such as philosophy, geology, history, mathematics, psychology, sociology, politics, mathematics, biology/chemistry, etc.
School of theater, film and television
The major in theater and film is in the School of Theater, film and television. It is divided into the Department of Film, Television and Digital Media and the Department of Theater.
UCLA is recognized as Hollywood's gateway to the U.S. theater, film, and TV industries, which have the world's largest market size and influence, and is supported by many passionate students across the country. In the Department of Theater, you can study acting, criticism, stage design, directing, musicals, and theater writers, and in the Department of Broadcasting and Film, you can selectively study directors, PDs, documentaries, screenwriters, and reviews.
School of the Arts and Architectures
Five major fields: architecture/urban design, pure art, design/media art, music, and world art/culture. Among them, the Fineart field is especially famous, and many students are applying. Not only does the university have a large collection of artworks, but the environment is optimized for students to study, such as art galleries, theaters, cultural centers, and education centers. It has become a prestigious art university nationwide and is always one of the top 10 in the nation's rankings.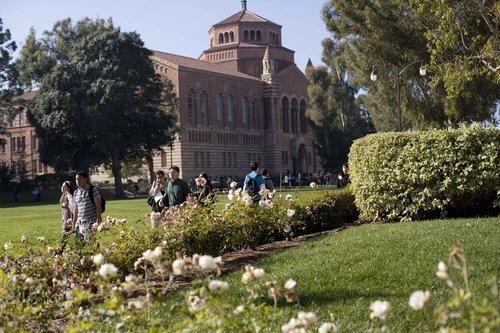 (US-News Ranking)
National Universities- #20
Top Public Schools - #1
​From : UCLA, US-News, Niche