Swarthmore College is located southwest of the city of Philadelphia, Pennsylvania, and is considered one of the top three Libral Arts Colleges, along with Amherst College and Williams College. It is also called Swart, and boasts a beautiful campus as well as excellent education. The entire campus is designated as the National Arboretum, so you can enjoy various flowers and trees.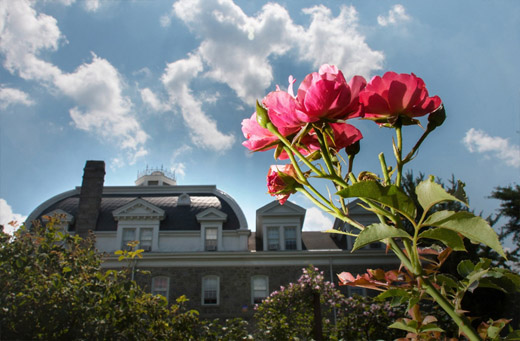 Basic information and tuition
BASIC
SITE
swarthmore.edu
ADDMISSION
swarthmore.edu/admissions-aid
ADDRESS

500 College Ave, Swarthmore, PA 19081

STUDENT

1,577 (all undergraduate)

FAUCLUTY
8 : 1
YEARLY
(2019-20)
Tuition and fees
$54,656
Room and board
$16,088
| | | | |
| --- | --- | --- | --- |
| 2018 -2019 | Total | Men | Women |
| Applicant | 10,749 | 4,374 | 6,375 |
| Acceptance | 967 | 481 | 510 |
| Registered | 396 | 202 | 199 |
| Acceptance Rate | 9 % | 11 % | 8 % |
Application Requirements
| | |
| --- | --- |
| High School GPA | Considered but not Required |
| High School Rank | Considered but not Required |
| High School Record (or Transcript) | Required |
| Completion of College Preparatory Program | Recommended |
| Recommendations | Required |
| Formal Demonstration of Competencies | Neither required nor Recommended |
| Admission Test Scores | Required |
| TOEFL | Recommended |
| Other Test (Wonderlic, WISC-III, etc.) | Considered but not Required |
There are two Regular Decisions and Early Decisions. Regular is due on January 2nd, and admission will be announced on April 1st. Early is on November 15 and January 2, and only one of the applicants is available.
Test

Subject

25th Percentile

75th Percentile

SAT

Evidence-Based Reading and Writing

680

760

Math

700

790

ACT

Composite

31

34

Math

29

34

English

33

35
Since it is a minority elite school, students with various experiences and dormitory experiences are advantageous. It is also known as a school that tries to grasp a lot of students' interests and tendencies through school visits and interviews. School grades are advantageous if you take many AP courses and have good AP grades. SATI or ACT scores and two SATII scores, but one of them is more advantageous if it is Math 2C.
Swassmore offers a variety of programs by selecting only excellent students from a small number of elite classes. More than 50 humanities and social sciences majors are provided, and engineering courses that are not provided by most Liberal Arts College are also operated. About 40 freshmen enter engineering school every year, and their majors can be civil engineering, computer, electricity, mechanical engineering, or fusion majors that apply chemistry and biology.
In order to give freshmen a period of adaptation to college life, students are evaluated only by passing or failing in the first semester of the first grade. In addition, there is no Dean's List, so students can only study their own beliefs without being compared to others. In particular, there are many opportunities for students to make their own lecture plans and give 1:1 classes with professors or conduct research together.
About 95% of students live in a total of 17 dormitories, and R.A. (Resident Assistant) resides in each dormitory to take care of students' convenience. Most first and second graders live with roommates, while third and fourth graders are provided with single rooms. Dormitory selection is decided by lottery, so you may not be assigned to the desired dormitory.
Along with nearby Bryn Mawr College and Haverford College, the Tri-College Consortium has a system that allows schools to freely take classes and conduct joint project research. You can also take classes at UPENN at the same time. Between 40 and 45% of the enrolled students go out as foreign exchange students every year, and students with excellent grades can receive scholarship benefits.
It runs a program called Oxbridge Tutorial, where students have to listen to seminars and write papers. Each seminar consists of four to eight students, and an average of 10 to 40 pages long is required to write a paper. At the end of the fourth grade, experts from outside of each field will evaluate students through oral and written tests.
90% of graduates go to graduate school
Ninety percent of Swathmore graduates are so eager to study that they go to graduate school. It boasts a Ph.D. rate of more than 20 percent, the highest among American universities. It also offers internships as well as externships for graduates seeking employment. An X-turnship is a mini-internship where you live and work with alumni who are working in your field of interest for the last five days of winter vacation before the start of the second semester. Students can learn whether their chosen field is suitable for their aptitude and how to prepare for their career through Xtonship.
Liberal Arts Colleges - #3
From :
Swathmore
, US-News, Niche